Additional Event Info: Virtual Meeting Agenda
Meeting Info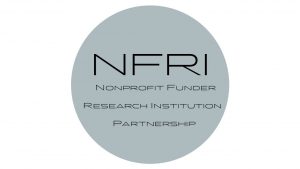 The Health Research Alliance (HRA)  and Council on Governmental Relations (COGR) invite you to participate in series of 3 webinars hosted by the leadership of the Nonprofit Funder-Research Institution (NFRI) Partnership on April 23, 2020. These 3 webinars replace the in-person meeting, though we will reschedule that workshop as soon as we can. 
As of 3/12/2020 all registration fee refunds have been issued.  These typically take up to seven business days to complete and post to your statement.
We will be walking through and collecting feedback on the resources created by the 3 working groups (1) Streamlining administrative requirements; (2) Indirect costs/research project support costs; and (3) Intellectual property and tech transfer issues. Each Working Group presentation will end with a discussion of next steps.  Updated materials will be posted before the webinar for your review.  Additional information on the history of the partnership and presentations and materials from previous meetings can be found here. 
Date: Thursday, April 23rd, 2020
11:30 am -1:00 pm        Research Project Support Costs Working Group - Register here

Template Funder Profile
FAQ about Funders
RPSC Menu
RPSC Menu Companion Guide (Defns and Examples)

1:30 pm - 3:00 pm        Streamlining Working Group - Register here
3:30 pm - 5:00 pm        IP/Tech Transfer Working Group - Register here 

Check here for details and updated materials which will be posted soon.
NOTE: We will reschedule the in-person workshop for a later date.