Where to house the application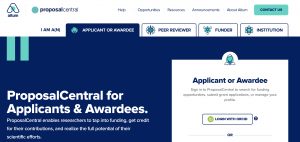 Traditionally, applications used to be completed by submitting via paper or email directly to the organization or through their portals. There are online platforms that have become more universal and standardized for both the funder and the applicant. A common platform that is used is proposalCENTRAL.
Policies
Funders will determine their policies and their terms that are unique to their mission and to their organization. Often times, policies can be a separate document, or a grant program will have its own set of terms. An organization's policies will go into detail on specific topics such as:
Scope
Institutional support
Budgeting and how funding is distributed
Progress reports
ORCID and tracking
Publishing
Professional development requirements
Attendance and presenting at meetings
Mentorship
Ethics
Declaration of conflicts of interest
Animal use
Stem cell research
Human subjects and/or use of patient tissues and samples
Open science
Intellectual property (IP), patents, technology transfer
Scientific misconduct, plagiarism, data falsification
Family and/or medical leave
Legal compliance
Patient/community outreach
Grant modifications
Cancellation or termination of funding
Grants Management Software
Grants management software has streamlined the entire process from the development to the application to the review process for organizations. The migration to these platforms is becoming more commonplace as organizations grow and offer more funding opportunities.
A Needs Assessment Checklist can be utilized to determine whether the features and functions of software or a platform will satisfy the requirements for an organization.
In 2019, HRA conducted a survey to determine the various grants management systems used by HRA members. When gathering this information, the systems that were included in the survey results were platforms that were utilized by at least 3 member organizations as well as comments and an assessment. The results can be found Here.
A webinar held by members of the Grants Administration Learning Community (then the Grants Administration Working Group) to present on grants management databases. The two databases that were featured were Community Force and Foundant. (Webinar, January 16, 2019)
Software Vendors
To aid in the application process, there are multiple grants management systems available to funders, with a variety of functionalities and price points. As each health research funder and associated funding program is different, we recommend reviewing the most recent Consumer Guide to Grants Management Systems and speaking with other HRA members who use a system of interest in order to make the best decision for your organization.
Consumer Guide to Grants Management Systems, 2020 Edition: Here