Strategies for circulating the opportunities
The initial step after developing the application is to advertise the funding opportunity within the community. Key targets will include the research community and other organizations. HRA members will oftentimes be notified via the listserv of funding opportunities.
Request for Proposals/Applications (RFP/RFA)
Mission – The purpose of this section is to establish broad research targets and to provide a brief background of the funder's initiatives including both short-term and long-term goals.
Eligibility – Eligibility will outline applicants based on:
The institutions they are affiliated with

Academic/universities
Non-profit institutions
National laboratories
Government agencies

The area of research the applicants are or planning on conducting or the areas of priority that the organization would like to fund.
The applicant (can be open or specific)

Principal investigator
Early-career investigator
Post-doctoral trainee
Pre-doctoral/graduate trainee

Location

– Funders can accept applications from applicants in the regions or countries of their choosing, otherwise international applications are accepted.

Degree(s) obtained

– Specific degree(s) or equivalent degrees are typically required. This can include doctoral degrees (MD, PhD, DO).

Letter of Institutional Support

– The purpose of this letter is to verify a physical space and location for the applicant to conduct their proposed research as well as stating protected time dedicated to research.

Effort

– This statement determines a minimum percentage of effort (i.e. 10%) required from the PI to dedicate towards conducting their proposed This can be expected if support exceeds a specific amount of support.

Exclusion criteria

– An example would include if funders can determine whether applicants will not be considered if they hold active grants from the organization or they are applying for or are applying for other grants within the same organization during the same funding cycle.

Overlapping aims can be included in as an alternative exclusion criteria such that applicants can apply more than once during a funding cycle, but must submit a separate proposal

"

You may apply to more than one grant program during an application cycle if the aims do not substantially overlap with the aims of any other application across all programs. In addition, you may have the same investigator(s) as PI(s), Co-I(s), Project or Core Leaders, or collaborator(s) on a different project provided the aims differ.

 

All such duplicate grant proposal submissions with substantially 

overlapping

aims are subject to administrative disqualification, and such proposals will not be reviewed further or considered for funding." -The Leukemia & Lymphoma Society

Language

– The application will state whether a specific language must be used (i.e. English).
Evaluation criteria – Collaborations are likely encouraged between diverse disciplines, research teams, institutions, consortia, nationalities, or industry companies. Diversity statements are included to encourage racial and ethnic groups that are underrepresented in research efforts which can include Blacks/African Americans, Hispanics/Latinos, Indigenous Peoples/Native Americans, Alaska Natives, Native Hawaiians, and Pacific Islanders. Organizations are encouraged to take open approaches and to reduce bias.
Important terms and conditions (e.g. overhead %)
[Note: Part of RFA development is identifying the target audience – this could be cross-ref'd to definitions developed by the Research Workforce and Early Career Development Working Group]
Timeline – Lists the tentative dates for:
Opening of the RFP/RFAs
LOI deadline
LOI Notification/Full applications invitations
Full application deadline
Award notifications (Awards can also be made on a rolling bases depending on funding availability
Best Practices for RFP Creation & Improvement
3 -4 month advance notices should be given to institutions for new funding opportunities
Changes to the organization's traditional funding cycle deadlines should be announced a few months prior
The RFP should be clear regarding the limiting factors for award receipt and expenditure (this includes late submissions, signature policies, and indirect costs)
The organization should ensure that the opportunity should reach potential investigator applicants and the institution administrative staff.
Communicating With Private Funders
University foundation relations staff can be a key resource in helping faculty to develop relationships with funders and to keep administration requirements on track.
Creation of generic email boxes such as "[email protected]<mailto:[email protected]>" or "limitedsubmissions@university.edu<mailto:limitedsubmissions@university.edu>" may make it easier for funders to stay in touch with the institution over time, as these admin contacts can often change and it can be difficult for the funder to know whom to contact for reporting questions.
Dissemination (locally and globally)
Social media
Social media is a pertinent tool in connecting organizations with their communities. While social media may offer access to a broader audience, it is important to understand that specific groups may occupy a certain space and that one platform will not represent an entire Currently, individuals in the scientific communities are very active on professional platforms. Grants administrators may utilize their organization's communications team to post to social media to circulate their RFPs/RFAs.
LinkedIn is a popular platform to connect on a broader scale within extensive professional networks. Announcements and RFPs can be shared on a post. A good way is to encourage individuals and organizations within your organization's network and their extended networks to promote these posts. Oftentimes, researchers will share their recent publications to promote their work. This is also a good way for organizations to share publications that have resulted from their efforts.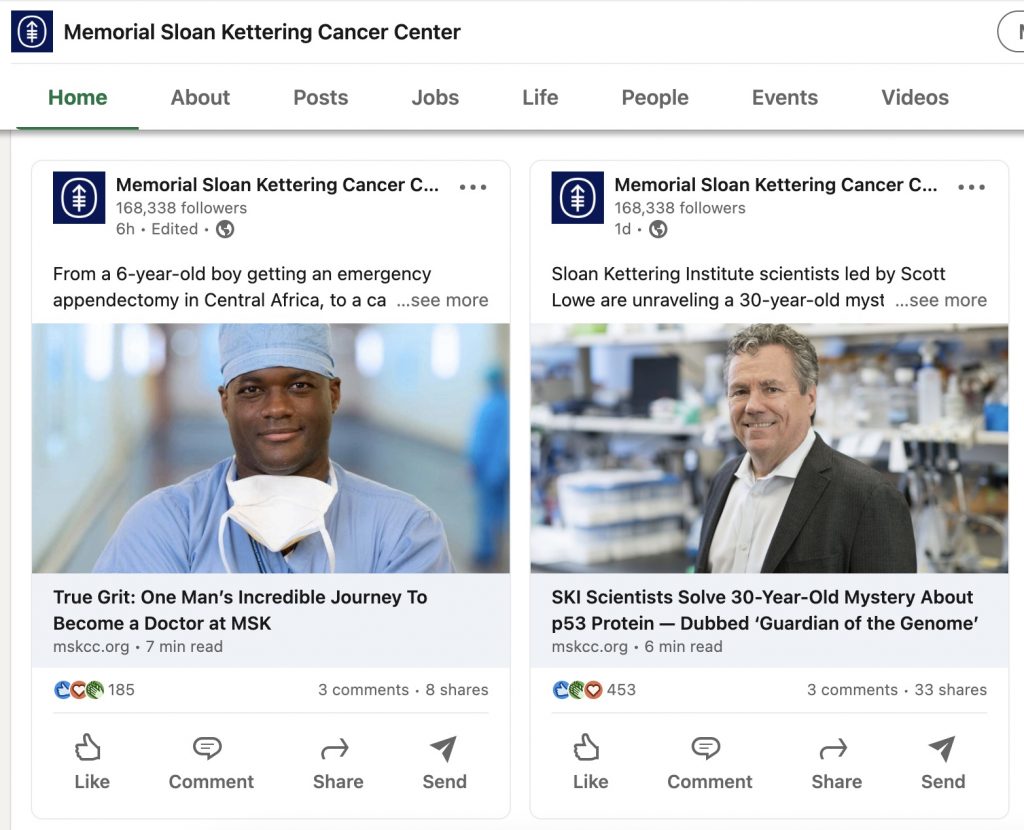 Twitter provides a more casual platform compared to LinkedIn where community professionals can share opportunities and to have conversations regarding these opportunities on a more fast paced environment.

Other platforms
Other approaches can include sharing the RFPs within institution newsletters/networks, through an official press release, via an announcement on the organization's website, or on email listservs. The marketing of RFPs can be done within the organization's community and networks by directly emailing reviewers, current grantees, past applicants, and other professionals involved in the community.
History
Description
Initial population